Takefusa Kubo: Asia's next superstar?
The flow of talent from Asia to the upper echelons of European football has been steadily increasing since the turn of the century, as the game's top clubs have gradually woken up to the untapped potential in the world's largest continent.

There may have been a time when club executives viewed Asian imports as a means of selling merchandise in those players' native countries – accusations that were levelled at Arsenal and Manchester United for the signings of Junichi Inamoto and Dong Fangzhuo respectively – but those days are long gone.

With the likes of Park Ji-Sung (Manchester United), Keisuke Honda (AC Milan), Shinji Kagawa (Borussia Dortmund and Manchester United) and more recently Son Heung-Min (Tottenham Hotspur) turning out for some of football's biggest sides, the gateway to Europe is well and truly open for Asia's brightest stars.

Spain have arrived at the party a little later than many of their rival leagues; most notably Germany and the Netherlands, who have been somewhat ahead of the curve when it comes to scouting the Far East for talent.

But they're making up for lost time and the relative success of Takashi Inui (Eibar) and Wu Lei (Espanyol) last season hint a brighter future for Asian players in LaLiga.
That optimism can be multiplied tenfold when you consider that 19-year-old wonderkid Takefusa Kubo is currently on the books at Real Madrid and has the potential to become one of the biggest stars in the game.

The Japanese winger had long been on the radars of both Barcelona and Real Madrid, even playing in Barça's youth teams before returning to Tokyo as a teenager. His departure was a consequence of the Catalan club being investigated for breaching FIFA regulations on signing young players in 2015, but they had hoped that he would return to play for the club upon turning 18.

Alas, it was not to be. Madrid pounced with a €2million bid to sign the youngster from FC Tokyo in 2019 and a reported €1million annual salary was enough to tie Kubo down to a six-year contract in the Spanish capital.

Real's transfer policy has shifted towards investment in youth over the past few years (signing the likes of Vinícius Júnior, Rodrygo, Reinier and Martin Ødegaard) so the competition to break through into Los Blancos' first team is undoubtedly fierce. But there are hints from Kubo's recent loan spell at RCD Mallorca that he has what it takes to make it at the Bernabéu.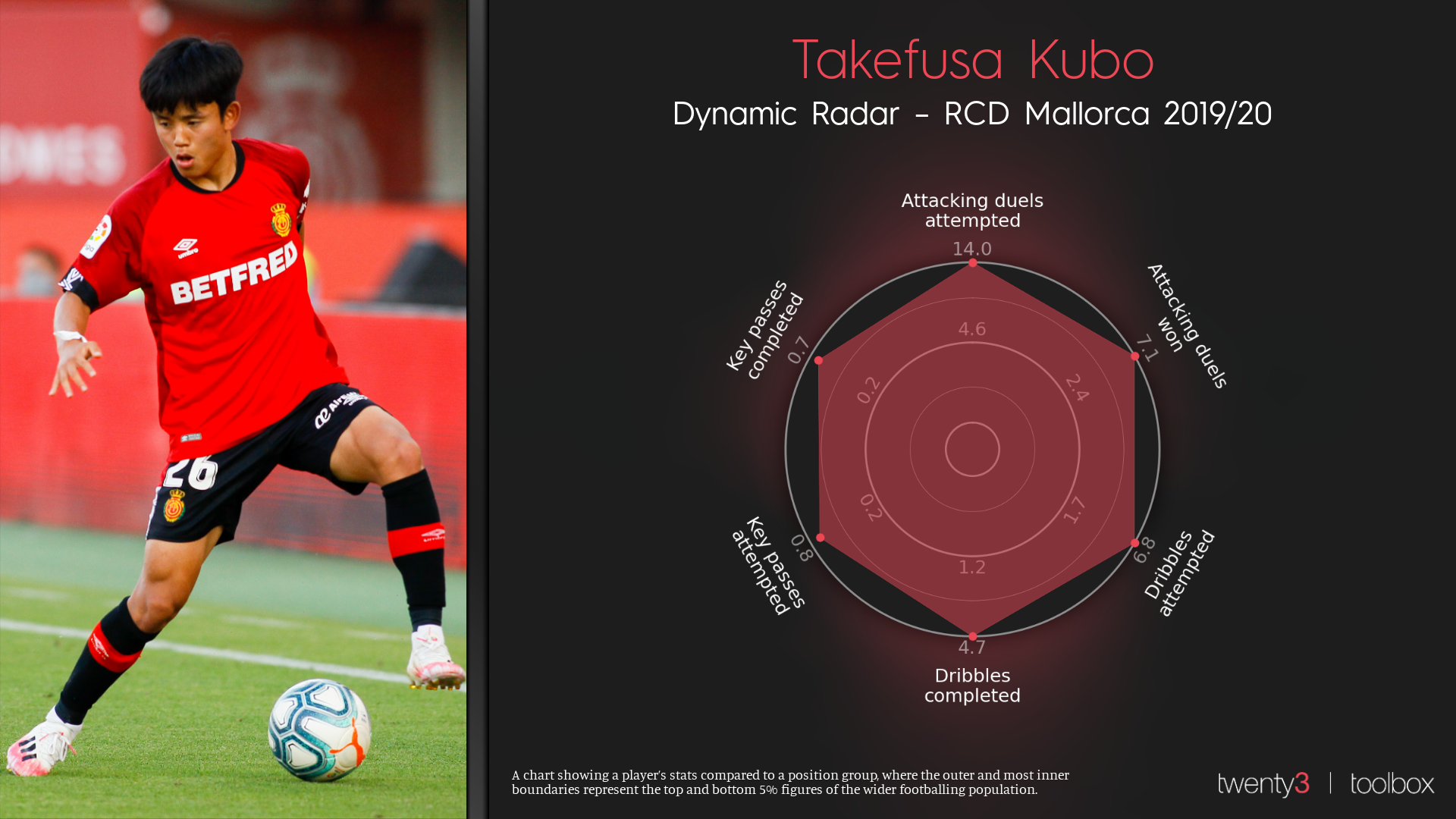 Four goals and four assists in 35 LaLiga matches for Mallorca is a solid return for a teenage midfielder enjoying his first full campaign at an elite level and his underlying numbers paint the seven-cap international in a broadly positive light.

It won't come as too much of a surprise to anyone who has watched Kubo play, but his close control and ability to beat defenders is the winger's defining attribute. His record of 8.97 dribbles attempted per 90 (the fifth-most in LaLiga) reflects how much his game is dominated by a desire to take on opponents.

That instinct has the potential to be problematic if it comes at the cost of ignoring better options, but Kubo's success rate suggests that this isn't the case. He completed an average of 6.53 of those dribbles per 90, which was only bettered by three other players in the entire division.

These runs with the ball happen in dangerous areas too. The wide man made 2.58 progressive runs per 90 in 2019/20, showing his impact in terms of driving play forward while at the Visit Mallorca Stadium. Similarly, a success rate of 8.9 attacking duels won per 90 (sixth in LaLiga) paints a clear picture of a player who is consistently a threat in possession and when trying to outwit opposing defenders.
There is room for improvement in Kubo's game, as expected at such a young age. He doesn't rank among the top performers when it comes to attempting shots (1.94 per 90) for example, and 2.73 touches in the box per 90 isn't especially high for a player who spends much of his time in advanced positions. While he is arguably operating where he is most dangerous, on the flanks, a degree of end product would still be a useful tool for the winger to develop.
Kubo's passing accuracy (73.29 per cent) isn't sensational either, but that may have more to do with the ambition of his passes. He attempted and completed an impressive 0.61 key passes per 90 (defined as 'a pass that immediately creates a clear goalscoring opportunity for a teammate who in turn fails to score'), suggesting that he's not simply a player who opts for a simple ball when the opportunity to create a chance could be available.
He may not be the finished product yet, but there is enough about Kubo's performances to suggest that he will become a top-class player over the coming years. His raw attributes of pace, dribbling skills and incisive passing are exceptional and the flaws in his game can be ironed out by gaining more experience on the pitch.
Real Madrid have lined up another loan move for the Japanese prodigy in 2020/21, this time with Unai Emery's Villarreal. That opportunity to continue improving away from the spotlight of the Bernabéu can only help his progress. If Kubo develops at the rate he has so far in his career then Los Merengues will have quite a player on their hands.
All the graphics and visualisations in this article use Wyscout data and were produced in the Twenty3 Content Toolbox.
If you'd like to learn more about our products or services, and how they might be able to help you, don't hesitate to get in touch.