How do PSG get the best out of Messi, Neymar and Mbappé?
It may seem like a strange question given we're talking about three of the most talented players on the planet, but, how do you get the best out of Lionel Messi, Neymar and Kylian Mbappé? 
This definitely falls into the easier said than done category. Up until now, it was a problem for Football Manager and FIFA players. It was one of those debates you have with friends where balance isn't important because, well, it is all theoretical.
Yet it is a very real (albeit positive) conundrum for Mauricio Pochettino. 
The Paris Saint-Germain boss is the envy of every other manager in world football. But then you consider the headache he no doubt has trying to fit those three players into a functional starting XI without the balance of the team being negatively affected.
Few managers will be under the pressure he is. He'll be scrutinised like no other. Judged not only on wins and team performances but also on the form of those three individuals in particular.
So we thought we'd put ourselves into his shoes in an attempt to work out how exactly you can get that trio firing without any sacrifices. 
Sign up to our newsletter to keep up to date with all Twenty3 highlights
For starters, we already know that Neymar and Mbappé understand how to play together. The Brazilian starts on the left and cuts inside with great regularity whereas Mbappé has been deployed in more central areas, though is he comfortable drifting into wide areas to get involved.
On paper, Messi would fit in on the right of a front three. It's where he's spent the majority of his career. By no means, though, is he a traditional inside forward and this is why something will need to give. 
The legendary Argentine is a hybrid. He is a creator and a goalscorer.
Messi is used to seeing a lot of the ball in the final third, usually in central areas – as shown in his heat map.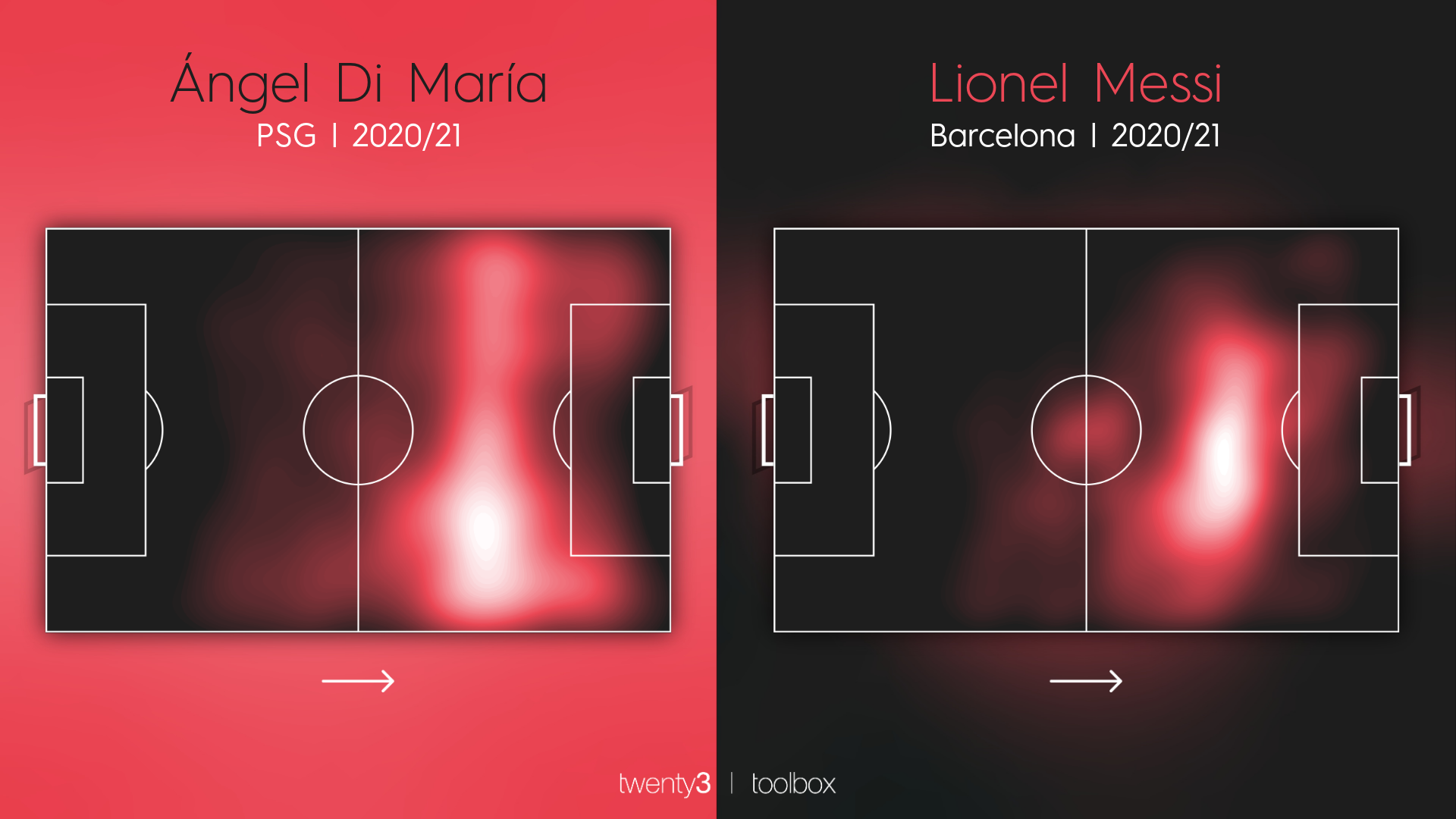 Ángel Di María was utilised on the right last term and he's spent time there in his limited appearances so far this term. 
If you're wanting to see how PSG use their right-wingers, he's the best man to judge. As you can see, the Argentina international spends a lot of his time in wide areas. This differs from what Messi is accustomed to when used in that role.
The 34-year-old, at Camp Nou, was given the freedom to occupy the areas usually associated with attacking midfielders, even though he started on the right.
This license to roam is what allowed Messi to be Messi. In an ideal world, PSG would want to replicate that. But he's creeping into areas usually occupied by Neymar, as shown in his heat map below.
If you want Messi and Neymar to play their natural games, something has got to give. It is as simple as that. The dynamic was straightforward at Barcelona with a young Neymar accepting his role as a subordinate to Messi.
Paris is Neymar's city. At 29, the world's most expensive player isn't going to want to accept a lesser role to accommodate Messi, no matter how good their friendship is.
Having said that, though, PSG haven't signed Messi to be anyone's beta. So Pochettino needs to find a compromise.
It might be why the Argentine tactician has been trying different systems in Ligue 1 so far this season.
PSG have experimented with a 4-3-3, a 4-4-2 and a 4-4-2 diamond. Not just that, though, against Reims the front three were fairly narrow. Against Strasbourg, the left forward (Mbappé in this instance) seemed to keep the width. 
Pochettino has used Di María and Julian Draxler on the right. Their output when in that role isn't too dissimilar to what Messi averaged during his final season with Barcelona. 
So it isn't as though there's going to be a huge adjustment to the new No.30 coming in on the right. PSG are used to having players in that position who see a lot of ball and have a high number of touches in the opposition's penalty area. 
That isn't to say the transition should be seamless, but it won't be as dramatic as if Di María was only averaging 30 passes and PSG had to find a way to accommodate Messi averaging 60, for example. 
Pochettino's willingness to try something different with the shape and the roles of the players might be what allows Messi and Neymar to coexist on the same pitch. 
The width is going to come from the full-backs, that is a given. If Neymar and Messi are both popping up in central areas then those in midfield will have to act as counterweights to protect the team during a turnover. One of the best around at doing that is Gini Wijnaldum. For the majority of his Liverpool career, he acted as security for Andrew Robertson and Sadio Mané on the left. He was a facilitator. 
Marco Verratti can do that, too, while Idrissa Gueye and Danilo Pereira are both superb at regaining possession – with both averaging over four interceptions per 90 last season.
Football is all about structure and repeatability. The best teams often talk about rhythm and repetition. PSG might have to be a little loose with that if they're to get the best out of arguably the two most creative players in Europe.
We might see more average position maps like the one from their game against Reims. With both wide forwards fairly close to the centre-forward. That allows both Messi and Neymar to get on the ball in areas they can be effective.
The width comes from the full-backs and the pace of Mbappé pins the centre-backs, to an extent. It could well be the perfect storm.
---
All the graphics and visualisations in this article use Wyscout data and were produced in the Twenty3 Toolbox.
If you think the Toolbox could help your organisation either in the Media or Pro industry, please don't hesitate to request a demo here.